Leiter 15: "The Kite"
Object data:
| | |
| --- | --- |
| Position: | 18h 51m 47s Dec -05d 43m 43s |
| Size: | 2.5' |
| Brightest star: | GSC 5126 4091, 11.6 mag |
Description
This asterism appears in an 8" as a suspicious glow at 90x magnification. Magnification of 130x or higher reveals the shape of this object, which can appear as a faint open cluster or even as a galaxy in nights with unsteady air. The three brightest stars form a rectangle with a fourth star. The three bright stars are visible with an 8" telescope. The fourth start marks the endpoint of a chain of faint stars which extends about 1,5 arc minutes. With 8" aperture these stars might appear as a linear haze. With the help of steady air and good transparency of the atmosphere one might identify stars of the chain with 8" and averted vision.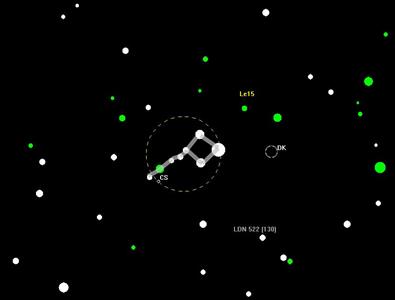 How to find it
The asterism is located about 30 arc minutes NNE of the center of Messier 11. Two stars of 10.5 mag point the way from Messier 11. They are half way from the center of M11 to Leiter 15. Below you find one finder-chart for the object (click to enlarge).
Note
Please find Christian Weis description with 18" here. The object is also included in the BaFK, a wonderful compilation of objects for the visual observer.
BACK